---
A tribute to hon'ble Bibi Surinder Kaur Badal Ji
---
The sad demise of Mrs. Surinder Kaur Badal sent shock waves to all the Punjab and the people across the country. Her irreparable loss cannot be compensated by anyone or by any means. We feel helpless before Almighty's will.
The Management, The Principal and The Staff of Guru Gobind Singh Group of Institutions salute her dedication, commitment, dynamism and her capacity to execute work to finest details. Her dream came true when the three colleges shaped up within short-time and have become torch-bearer of knowledge, employment and personality development of the students of this remote and backward area. This college was also the brain-child of her vision. She was very particular for the cause of girl child and her higher education.
We pledge to carry forward her sacred mission of Girl-Education. Her spirited and zealous efforts will always inspire us to serve this institution. Wit bowed heads and folded hands, we pay hearth tributes tot he departed soul. We will remain indebted with gratitude for her endeavour to uplift these institutions. She will remain alive in our hearts and will guide us from her heavenly abode.
Sd/-  Dr. N.R. Sharma
Principal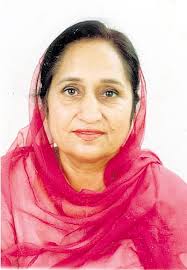 ---