---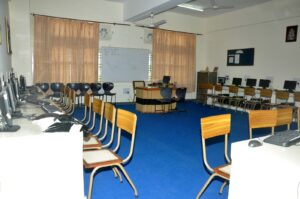 The college has well equipped and fully furnished Computer Lab having a large number of latest computer hardware and software to cater to the needs of students at college level. The computer Lab has 23 systems with suitable configuration* which are handled by experienced faculty members.It is also connected with Wi-Fi internet and the students are allowed to use these facilities at their convenience under the guidance of well qualified staff. Various services offered are listed below:
Compulsory practical classes for all in batches
ICT enabled teaching practice
ICT enabled lectures and seminars etc.
Research facility using internet
Practical classes as requirement of Paper V-A
Computer Craft
The unique feature of computerized facilities offered is special emphasize on ICT enabled teaching which enables teachers to use information technology for professional growth and better teaching learning environment.
In-charge
Shaveta Kalra
(Assistant Professor in Education/Tg. of Computer Education)
---